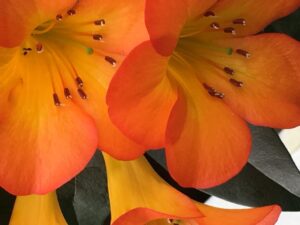 The Outdoor Art Club Garden Tour
Thursday, May 4th
 9 AM to 4 PM. If you intend to visit all the gardens,  you should plan on a minimum of  3 hours, not including lunch.
Gardens are hillside gardens and are not handicap accessible. Attendees must be able to navigate steps and steep hillsides without hand rails.

Attendees should wear suitable walking shoes.

To protect the privacy of the garden owners, please no photos or social media.

No Strollers

Water will be available at sites.

Please bring a water bottle. For environmental reasons, no cups will be provided.

Tickets are non-refundable.
Luncheon is served at the clubhouse between 11:00 AM and 2:30 PM. The cost is $10, and you must pre-order your selection when you purchase your tickets. Lunch pre-orders close on April 26.
Option 1 –

Chicken salad sandwich wrap, chips, fruit, cookie, spring water

Option 2 – Gluten-free spinach tortilla wrap of vegetables (Avocado, tomato, shredded carrots, lettuce, hummus), fruit, chips, cookie, spring water.

**Vegan/Gluten-Free/Dairy-Free/Nut-Free/Onion&Garlic-Free**
Iced tea, lemonade and water are complimentary and wine will be available for purchase.
Join us on the patio for a silent auction.
The Outdoor Art Club silent auction includes wonderful wines, restaurant gift certificates, themed gift baskets and more.
All proceeds from the silent auction go to support the beneficiaries of the club's Outreach program.
Shuttles leave the Outdoor Art Club in downtown Mill Valley, beginning at 9 am. The last shuttle leaves the clubhouse at 2:30 pm. All gardens close promptly at 4 pm.
Visit www.oacgardentour.com for more information